Product Information
Advertising Intelligence brings your Church's ad campaigns under one roof so you can see what's working across various platforms. Uncover recipes behind rockstar campaigns, pinpoint what's working or not, and use automation to stay on top of reporting.
How much is your time worth? Manual reporting is time-consuming, not scalable and eats into your margins.
What types of reporting can my church see?
Google Search Ads
Google Display Ads
Google Analytics
YouTube Ads
Google Shopping Ads
Gmail Ads
Facebook Ads
Instagram Ads
Messenger Ads
Audience Network Ads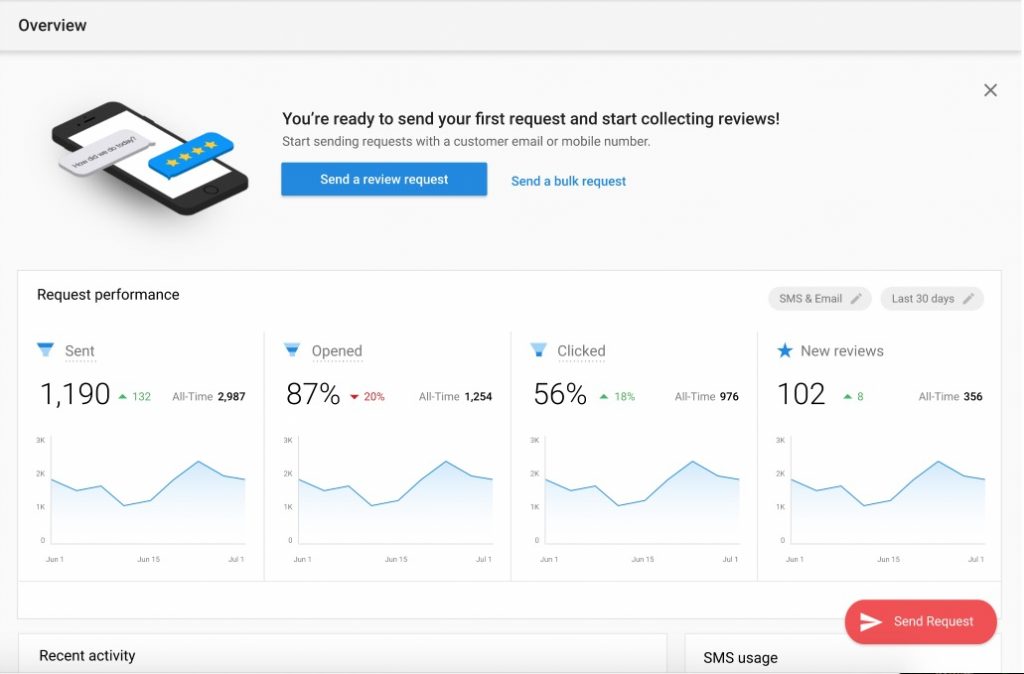 Product Features
Advertising Intelligence is included on both our Church Toolkits (express and Pro). This tool will only benefit those churches that are running or plan to run any sort of paid campaign. It's a great integrated ad monitoring tool so you can see your campaign results across all your platforms all from one place.
Bring your church Facebook Ads and Google Ads campaigns under one roof – determine what's working across ad platforms.
Pinpoint what's working and what's not – combine live reporting and unique traffic data to show your church a true ROI.
Cut down on overhead with automated reporting – provide your church with real-time performance reporting for your ad campaigns without any work on your end.
Become the expert – analyze results and interpret what types of ads are giving your church the best results.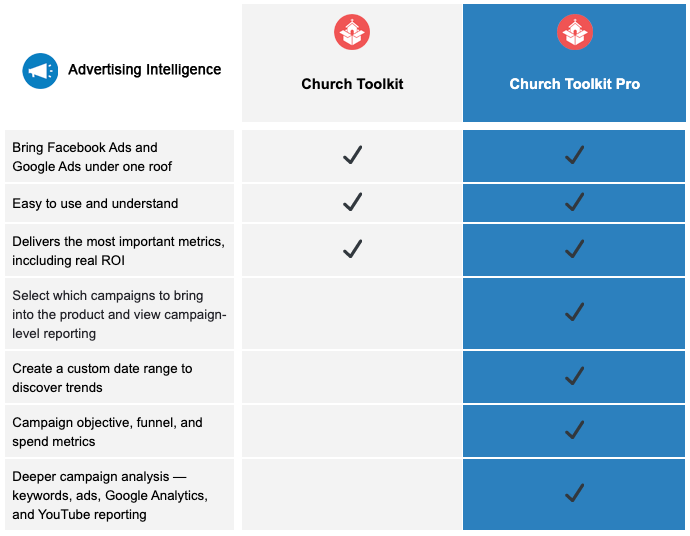 Faqs
Below you can find some of the most common questions about the Advertising Intelligence tool:
What are the main features of Advertising Intelligence?
The ROI Calculator: Using Average Sale and Close Rate data collected from each unique user, a precise ROI can be calculated for your church Google Ads and Facebook Ads campaigns.
Executive Report Integration: Empower your church to view reporting for advertising, along with their other products, right in the church control center. Now you can see what's happening across all digital marketing channels in one place.
Live ad reporting: Real time reporting for your church Google Ads and Facebook Ads campaigns.
What advertising platforms are included with Advertising Intelligence?
Google Ads:
Search Ads
Display Ads
YouTube Video Ads
YouTube Search Ads
Facebook Ads:
Facebook
Instagram Ads
Messenger Ads
Audience Network Ads
In addition, there is a Google Analytics view that shows goal completions and top traffic sources.
What happens after this product is activated?
The Advertising Intelligence reporting dashboard (the product) will be available in CCC – Church Control Center.
What are the country and language parameters?
Advertising Intelligence does not have any country restrictions and is available in English.