Product Information
Online reviews are critical to the success of a local business. In fact, nearly 85% of first time visitors say they'll only consider visiting a church if they have an average rating of 3-5 stars. You should know that it's important to capture your visitor and member feedback, but they need your help.
With Customer Voice, your church will have the power to gather visitor and member experiences to boost online star power and drive more traffic. Win the trust of new visitors, collect their valuable feedback and show up where they are looking.
Deliver a powerful customer feedback tool that will have your clients seeing stars!
Features
Customer Voice is included with both Church Toolkits with the versions that are outlined below:
Use happy visitors and members to win new visitors: Leverage the voice of your loyal members and happy visitors to improve your church's online word-of-mouth. Invite existing members to share their experiences online so new visitors know your church can be trusted.
Collect feedback to better your church reputation: Ensure members and visitors are getting what they want and expect. Invite them to share their experiences so your members can put their valuable feedback to work.
Build a targeted presence across popular review sites: Make sure your church reviews show up where your future members spend the most time. Focus on collecting feedback on the review sites that impact your church.
Help your church shine in local search: Maximize the SEO benefits of positive visitor experiences. Gathering authentic reviews will help your church show up in search so new visitors can find you.
Reach new audiences wherever they are: Customer Voice gives your churchs the flexibility to request reviews on the medium that works best for your members—either text message, email, social media or even on a kiosk style at your church.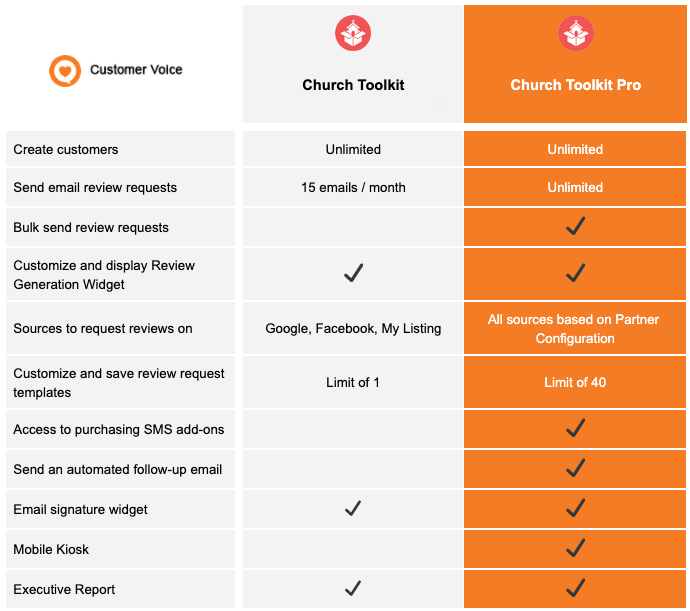 Faqs
Top questions asked about the Customer Voice:
01. Why do reviews matter?
Visitors often search online for a church with recent reviews and an average review rating of at least four stars. If a church doesn't fall into that category, there's a good chance they're losing potential visitors to other churches. To mitigate that, it's important to continuously generate positive reviews while managing the negative ones.
02. Why is it important to continuously generate new reviews?
For churches, having a steady stream of recent reviews is crucial. 73% of visitors say reviews written more than 3 months ago aren't relevant anymore. Visitors want to see reviews that relate to the church as it is today.
03. Does Customer Voice require any additional products?
Church Listing Builder is needed in order for Customer Voice to access the My Listings page. Both of these are offered on both our Church Toolkits. The express and the PRO versions.
04. How many email review requests can be sent per day?
An unlimited number of email review requests can be sent each day, however, Customer Voice Express (Church Toolkit) accounts have a limit of 15 emails/month. Church Toolkit PRO accounts dont have a limit.
05. How many SMS requests can be sent per day?
Due to mobile service provider standards the daily limit of SMS requests is 150. If you are sending a large number of SMS requests per day, this helps prevent your number from being flagged as a spam account.
06. Why might an SMS request be "dropped" and what can be done?
A dropped SMS request can be due to several reasons. Click on the tooltip next to the status to see a possible reason why the request was not able to send. Most likely it's due to:
The phone number is a landline and is unable to receive text messages.
The number has blocked receiving messages from unknown numbers.
The phone associated with this number is turned off or unavailable.
The number you're trying to send to may no longer exist.
And occasionally an SMS message will not be delivered due to being flagged by the mobile carrier or an unknown error. This can happen because of spam filtering by the service provider. In this case you can wait a moment and try to send the message again.
07. What phone number is used when my client sends an SMS review request to their visitors? Is it from the church area code and is it a 10 digit phone number?
When your church has activated the SMS add-on and is ready to start sending SMS requests, we'll do a search for available numbers with the area code of your church and select one to assign to your account. In the case that there are no available numbers with the same area code, we choose the next closest location.
For example, the area code for Manhattan is very small and has very few numbers, so we will choose another number from that city. It will be a 10 digit phone number.