Product Information
Today, your church's online reputation is largely defined by your members and visitors.
Reviews, accurate ministry information, and social media activity can impact your reputation and whether a visitor decides to become a member of your congregation. You need a way to manage all of these factors in a scalable way. We can help
Monitor what people are saying about your ministry and improve your visibility in local searches. See how you stack up against neighboring churches, stay in the know with automated alerts and get progress reports to see how your reputation has improved.
Take control of your online reputation today!
Features
There's two versions of the church reputation manager. Both included on the Church Toolkits. See the feature breakdown below:
Manage your online reputation from one place: Compile reviews from dozens of sites so you can easily see what's being said about your church online. Plus, use competitive benchmarking to see how you compare with other local churches.
Show up where people are looking: Improve your search rank by identifying online listings that are inaccurate or missing from essential directories like Google, Facebook, and Bing.
Hear what visitors are saying all over the web: Monitor when your church is mentioned in a variety of sources, including news sites, blogs and social networks. Plus, highlight the most positive and negative mentions using automated sentiment analysis.
Stay informed with automated reports and alerts: Executive reports break down how your church is faring in online conversations and helps you understand what to do. Alerts are also sent every time new information is found.
Respond to Google and Facebook reviews in just two clicks using pre-loaded default templates. Plus, you can edit or delete any templates and customize your own.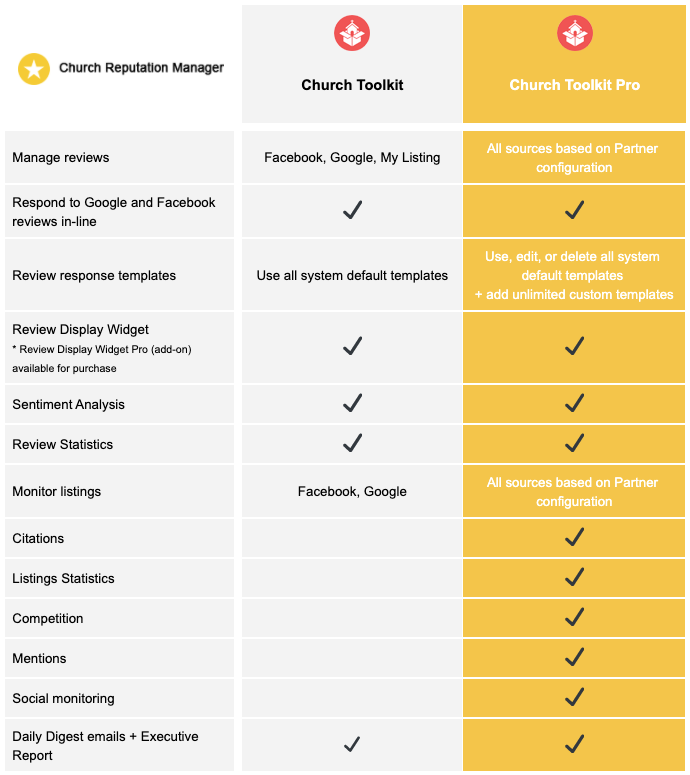 Faqs
Below some of the most common questions we get asked about the Church Reputation Manager:
01. What is church reputation management?
The reputation of a church is both what they say about themselves and what others say about them. Managing reputation is nothing new; what's new is how the internet and social media have changed the way churches are being defined and how fast their reputations spread.
02. What is presence management and how does it help a church?
Presence management is making sure that visitors can find the right information about your church online. Correct and consistent listings across directories, review sites and social networks is crucial.
03. Why is online review monitoring important?
With over 50 million local reviews on Yelp alone, it's clear that customers are sharing their opinions online. Seventy-two percent of visitors say they trust online reviews as much as personal referrals, so whether it's a testimonial, a detailed article on someone's blog, or an offhand comment on Twitter, people are now chatting 24/7—and your church  needs to be paying attention.