Introducing Church Control Center
A one stop application that allows you to control every aspect of your church/ministry digital presence. No more multi-sites & lost passwords. Your account can have one or multiple users to delegate the work if needed. Some of our most popular tools are:
Social Media Manager
Schedule posts, explore content ideas, listen and engage with your audience and much more!
Church Reputation Manager
At a glance view all your church reviews, map listings, online mentions and respond as the owner to manage, improve or show gratitude to reviews.
Website Builder
Choose from multiple pre-designed templates curated for churches & ministries, start one from scratch or import your existing site. All built on a WordPress platform with DIVI visual builder.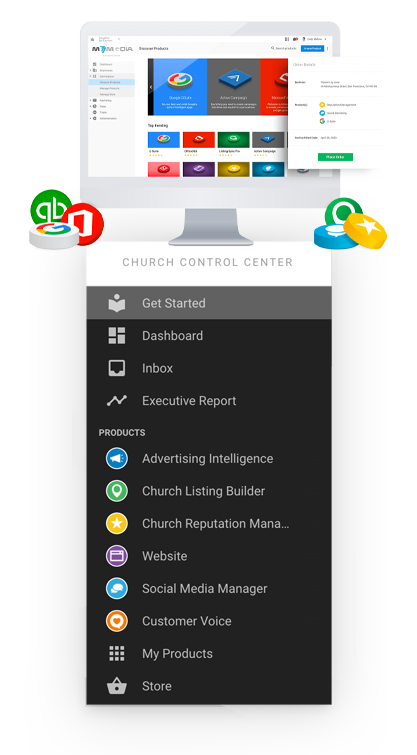 Users of all experience levels welcome!
Our CCC (Church Control Center) is filled with solutions designed to support users with all experience levels. Our tools allow you to use our platform in different ways:

DIY
For users with experience in online platforms, social media management tools and visual web design builders (no need to code).

We do it with you
Users with some experience but still need our team to help? In the marketplace, you'll find solutions that fit your needs no matter the budget.

We do it for you
Want to focus on your ministry and let us take care of everything? Yup, we can do that too!
How's your church reputation?
Jesus said "Go and tell others..." he basically invented the review system! If your church or ministry doesn't have reviews how will people know about you?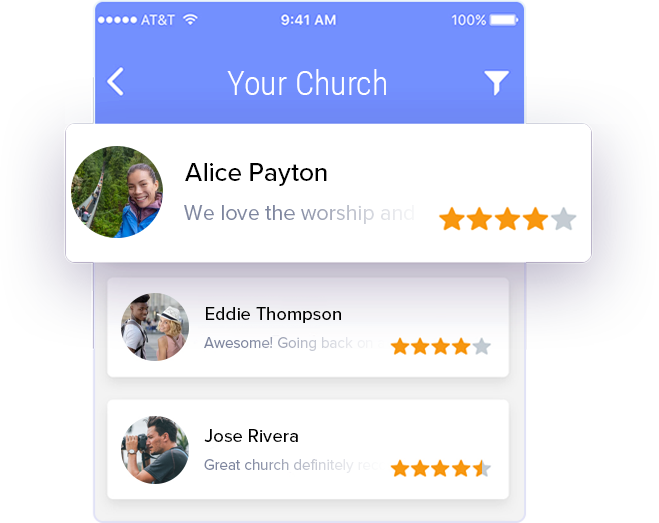 Explore our 6 main tools
All the tools below are included on our Church Toolkit packages. Once you start a free trail and create an account you'll get access to the CCC - Church Control Center. Once there you'll be able to explore our 6 main tools - PLUS you'll have access to our store that is continuously updated with new services, freebies, tools, products, offers and resources all geared towards supporting your ministry. CLICK ON PLAY VIDEO BELOW.
Try us FREE for 30 days
Try our Church toolkit FREE for the first 30 days. If you like what you see your membership will automatically renew. No credit card needed to start and you can upgrade or add Add-ons at any time.
Church Toolkit
Social Media Manager

Facebook & Google Business

Unlimited Users
Church Reputation Manager
Customer Voice
Advertising Intelligence
Church Listing Manager
Website
Church Analysis Report
Church Toolkit Pro
Social Media Manager

Facebook, IG, Twitter, Linked-in & Google Business

Unlimited Users
Church Reputation Manager Pro
Customer Voice Pro
Advertising Intelligence
Church Listing Manager Pro
Website Pro
Church Analysis Report
Wholesale access to our Printing Portal
Ready to buy PRO?
The first step is to
Create an account
. After your account is created click the buy now button below.
Unique needs?
CALL or EMAIL
Multi-Campus accounts
Anual subscription discounts
Custom packages
Dedicated support needs
Full Agency support needs
Get a FREE Digital Church Analysis!
In about 15 minutes our system will generate a full report evaluating all your digital presence. You will automatically receive it and we will contact you at your convenience to discuss.